14 Dec

Caravan Water Damage Advice

Damp smells, stains on the roof and walls or soft walls or flooring can indicate caravan water damage.

To locate potential water damage entry point yourself, do a simple torch test. With one person inside, another go under the caravan with the torch pointing to the floor. If the person can see the light from the inside there's potential for water to come in.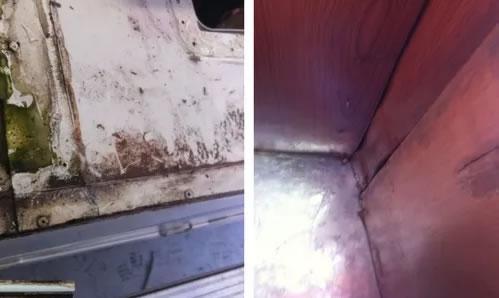 Your best defense is always going to be good maintenance.
Caravans are always prone to water damage because they are out in the elements. They're very common and unfortunately go undetected allowing them time to create substantial damage. And beware, water damage / leaks are sometimes not covered by your insurance, as the cause of a water leak is often the result of poor maintenance.
Prolonged exposure to moist coastal air and sea breeze will deteriorate seals and your caravan in general. The most common places for leaks to arise are:
Corroded seals around hatches, windows or roofs
Damaged or faulty plumbing in wet areas – kitchen, toilet or bathrooms
Poorly fitted aftermarket accessories such as an AC, awnings or hatches
Whether it be storm damage or a small leak that builds over time that eventually rots the framing and/or cladding. Your best defence is always going to be good maintenance.
Caravans move, and are exposed to range of extreme weather conditions here in the South East; extreme heat, humidity hail and heavy rain. The combination of movement and weather conditions means that the original silicone from manufacture will eventually break down, letting in unwanted water.
Even the smallest amount of water can cause big damage over time. In fact, the visible damage mightn't even reflect the entry point for the water. Water travels and 'pools', and it is often where it pools that it does its damage.  If this is the case, both the entry point and the area of damage need to be repaired. Again it all comes down to regular checks and maintenance.